Cyprus Weddings 
Discover what is available for your special day...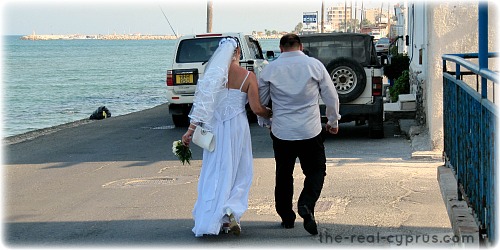 Cyprus weddings have always been popular on the island but just recently over the last few years, the whole idea of a wedding plus honeymoon for a whole lot less than a similar event in your home town seems to have taken off like a rocket.
You will have almost too much choice ahead of you.
There are now 45 plus wedding planning companies alone, online, some in Cyprus and some in the UK and other countries and several tour operators that will create your special day not to mention all of the other 400 plus separate smaller hotel, designated venue and restaurant in house wedding planners.
Why Cyprus?
Cyprus is the number one European wedding destination for many reasons, firstly the historical connection to Aphrodite, that quintessential goddess of love, what could be more romantic than that for a bride and groom?
It is also popular because it is in Europe, the weather is superb, the food is fabulous, the Cypriots are wonderful, warm and welcoming people, the island is beautiful and your wedding photographs will be stunning.
You may even want to include one or two Cyprus weddings traditions as a nod to getting married on the island.
Everyone drives on the left, plug sockets are the same and you can buy from Marks and Spencer, plus the hotels are fantastic, the service excellent and the choices for shopping are superb.. did I mention the weather... again!
Who wouldn't want to get married in Cyprus? 
---
Where to start?
The question has been popped, you have excitedly said yes and you have both decided a destination wedding is for you, and there are so many reasons why this is such a great idea.
No doubt your head is full of ideas and inspiration but you will probably have a lot of questions, your head will be buzzing and you will be flying round like a bee in a bottle.
Dress, shoes, jewellery, invitations, rings, everything will be a blur of excitement.
I can't help you choose your dress or decide what earrings to wear, but I can help with the more practical informational stuff you will need to know such as:
·         Why a destination wedding is such a good idea
·         Choosing church or civil ceremony
·         The legalities of your marriage & paperwork you will need
·         Wedding venues to choose from
---
Wedding Planning
It is quite a challenge organising your wedding in another country, thankfully with some careful choices at the beginning you should have a headache free affair, on budget and on time.
You will need to consider approaching the organisation of it rather like you would any project at work, or running your household.
Time for research is crucial
Break each area of the wedding down into steps and work on one thing at a time, create useful checklists to keep track of your progress and a budget sheet to monitor your costs.
You might at this point decide you don't want to do it all yourself and get someone else in to help.
Once you have organised the date, decided where to get married and what ceremony you are having the rest should fall into place.
You can then move onto the fun stuff like:
·         Organising an additional  reception if you need to
·         Choosing flowers
·         Designing a cake
·         Deciding what kind of entertainment to have
·         Pick a photographer/videographer
·         Talk about transport
·         Investigate hair and makeup options
You will probably want to do some research about wedding insurance too, so you have your special day covered in the event of something happening out of the blue that you have no control over.
---
Want some more choices?
All sounds like a lot of work?
Well you do have the luxury of other choices, you don't have to do it all yourself, you can employ a professional wedding planner.
You can opt to have an independent wedding planner, use a tour operator planner or choose to work with the Cyprus weddings staff at any number of hotels and venues across the island.
You just have to fire up the internet and take the first step.
Good luck with your Cyprus wedding and congratulations on your engagement.  You are going to have the time of your life.
---
Home Page > Cyprus Weddings
---