Holiday Homes For Heroes
---
Video Credit: BFBS News
---
Holiday Homes For Heroes, the brainchild of Alan Wilson an ex service man living in Cyprus.
He started the MARCH scheme which means Military and Retired Cyprus Holidays for Heroes.
The idea behind it was that quite a few holiday homes in Cyprus can often lie empty out of season and they thought why not contact the owners to see if they would give a week or 2 free of charge to injured, disabled or traumatised service men and women and their families to get some well deserved R & R after their experiences in the current conflict.
It seemed a great idea to allow people to have some time and space in the sun and not have to worry about some of the cost of it.
Cyprus is a much loved destination throughout the british military services so a holiday homes scheme on the island was a simple and brilliant idea.
They have their own website march-cy.org and you can contact Alan Wilson who is the co-ordinator or Barbara Cooper who is the treasurer if you have any questions.
If you feel you would like to know more, or offer either accommodation, time or funds to this group then please visit the website and get in touch.
Any money donated will be towards such things as:
Welcome Packs
Utilities
Car Hire
Cleaning
And so on...
---
Someone Who Has Experienced The Service...
---
Video Credit: BFBS News
Daniel, or BAZ to his friends, a seriously injured young serviceman aged only 25 is the first person to have taken up the service.
You can view his story on the BFBS News Video.
---
The Founder Of MARCH
---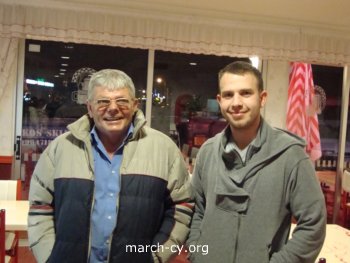 Alan Wilson Founder Of The Organisation With Baz
---
Can You Offer Any Help?
---
Are you available to help?...
Offer your property?
Meet & greet?
Clean?
Welcoming people who have never visited Cyprus before perhaps?
If you can offer any assistance at all please contact Alan or Barbara at march-cy.org I am sure they will be very grateful to hear from you.
---
Other Related Pages
Accommodation In Cyprus Cyprus Holiday Accommodation Self Catering Cyprus Holiday Apartments Cyprus Leave Holiday Homes For Heroes To Return Home