Cyprus Tourist Guide - Which Is The Best One?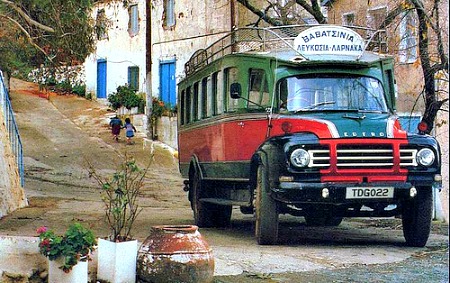 Cyprus Tourist Guide, which one should you choose?
Well, there are quite a number of them on the market but there are only a few we would recommend.
Side Note: The thing to bear in mind is this, no single Cyprus tourist guide will give you every detailed thing you need to know about this island, it is just impossible. The island is large, the publishing house have a limited budget and the author only has so much time for research so they cover the most common points!
One persons opinion will inevitably be different to another, so try and read the books in the bookshop to get an idea of which one will be for you, even if you buy online later.
At least you get a flavour of the writing style.
What we think may be great or interesting, may be completely at odds with your opinion.
In which case, do something useful and write to the publishing house with your thoughts. They love opinions from the general public and encourage you to contact them about a destination guide on accuracy and what you think about the area and that sort of thing and you will get a mention in the next publication of the book as a thank you for  making the effort.
Don't forget as well, guide books are written every so many years, restaurants and such will be in business on the day they write about them, but some may have gone out of business by the time you get to visit the island. which is hardly their fault so don't be too hard on the author.
---
From The Back Cover...
The first one is the Rough Guide to Cyprus 2009 Edition, written by Marc Dubin. As people who know Cyprus extremely well, take it from us, he has actually been here and done some research.
He knows his stuff and this is what makes the book a great Cyprus tourist guide.
He covers the Cyprus problem well, the history pages are interesting and if he is not so keen on something he will mention it.
We like his sometimes irreverent approach to things, he has clearly got a feel for the island, the Cyprus culture, and it's people and he is so right about tourist food and the "chips with everything"  mentality!
Really quite amusing in places.. and that is what you need.. a dose of reality about a place.
One third of the book is usefully dedicated to North Cyprus.
The Daily Telegraph describe it as their "guide book of choice."
Mens Journal want you to know it is "...loaded with cultural and historical details and includes recommendations for budgets ranging from the shoestring to lavish..."
Excellent recommendations we would say and as an updated comment in 2014, I will advise there is a newer version of this book, written by someone else published in 2013.
I am not including it here because I have not yet read it.
judging by early amazon comments, readers are preferring the 2009 Edition because there are:
More writing about the north of the island
More accommodation and eating places recommendations
Some walking trails are felt to be not accurate
They do like in the new 2013 version...
Colour maps
Regeneration is some parts of the island have been documented
We will let you decide which one you prefer
Prefer to use your Kindle?
You can also get a Kindle Version of the newer 2013 version if you prefer with text to speech enabled.
You tend to get less visual stuff in a Kindle book, there are no photographs because it costs more to download pictures for the author/publisher so you might want both versions and have the Kindle one on your mobile device for days out and about and the real life hard copy for when you are lazing around the pool or in your hotel room or for the flight when you have more time to read it.
To be fair the only thing you will be missing will be the photographs, there are some general maps which you pinch to enlarge to show you which part of Cyprus you are in and some local places of interest around you.
You also get some basic street maps to show where some local sites and restaurants are but they are by no means comprehensive.
I have a copy of the 2009 Version but it doesn't seem to be available now... and most definately does not have as much as the printed copy I own as well.
---
The Second book to have as an addition to your reading material is the Time Out Shortlist and the 2009 Edition is the latest one. It is better used along with other guide books, rather than on it its own because it is too brief to be used on its own.
This book makes a good tourist guide as it picks out the best of Cyprus's restaurants, sightseeing, shopping and nightlife.
We have found a few new restaurants ourself using this Cyprus tourist guide.
It comes in a very handy size for your pocket and a very easy to use format. It is a shame though it has not been updated in the last few years.
In the book you will find sections for:
Itineraries for suggested days out
What's on calendar for events during the year
Shortlist of their top picks and tips
Expert advice on every scene
Essentials on background basics you will need
Don't bother with the website for Timeout! The Cyprus section is poorly written about. 
This guide book is so much better.
You would expect the same kind of information on such a well known website but you will be disappointed.
There is a small but useful section dedicated to Northern Cyprus.
Prefer to use your Kindle?
Sorry no Kindle version currently but you can send a message from the amazon page to the publisher to request the book as a Kindle version.
---
The third book we like is the Insight Guide To Cyprus.
It is an inspiring background read and the insight series of all travel books have been developed along side the Discovery Channel on TV, well known for their great travel documentary programmes.
The insight guides are renowned for their great photography which vividly convey a sense of everyday life.
We like the information provided because we think it is useful and relevant to any visitor to the island and has been researched properly.
They cover all the usual areas of interest, the major attractions, beaches and water sports, top monasteries and include maps.
About 10 percent of the book is dedicated to Northern Cyprus.
Annoyingly it is currently not available through a
Amazon but you can get it through other sellers that are fulfilled by Amazon.
Prefer to use your Kindle?
Sorry no Kindle version currently but you can send a message from the amazon page to the publisher to request the book as a Kindle version.
---
The fourth book we like and worthy of making the list is from the very popular SUNFLOWER Books Series.
Cyprus - Car Tours & Walks - Sixth Edition May 2014
Noted as the "hallowed blue books" by the Sunday Times, this one in the series is no exception.
This book does not cover North Cyprus at all.
From the back of the book:
... this book covers greek (southern Cyprus), with car tours radiating from the three major tourist centres- Pafos, Lemesos and Larnaka.
Wherever you are based, there will be some walks on your doorstep, but it is also easy to make day trips to the best walking areas, the Troodos Mountains and the Akamas Pensinsula.
walks for all ages and abilities
topographical walking maps
car tours and fold out touring map
short strolls to idyllic picnic spots
timetables for public transport
update service for the latest information
Testimonials
Our travelling companion was the excellent "Landscapes Of Cyprus" Guide, which enables you to see what the average holiday maker misses out on
Yorkshire Evening Post
What we also like about this book is you can go to the website and get updates for some of the walks from people who have completed them and note any changes....
Plus...
You can register for GPS downloads for the walks...
Prefer to use your Kindle?
Sorry no Kindle version currently but you can send a message from the amazon page to the publisher to request the book as a Kindle version.
---
DK Publishing - Eyewitness Travel Guide Series - Updated  2012
Included this one because DK Publishing have quite a good reputation and the reviews on Amazon are not too bad.
The claim on the front of the book is:
The Guides That Show You What Others Only Tell You
Well you can be the judge of that on to see if you think it is a good Cyprus tourist guide!
It has some nice cut away diagrams of some of the major sites but not my favourite book by far. 
There are only 10 pages dedicated to North Cyprus.
See below I have a new favourite in the Lonely Planet Series for my Cyprus Travel Guides top 2.
Prefer to use your Kindle?
Sorry no Kindle version currently but you can send a message from the amazon page to the publisher to request the book as a Kindle version.
---
Lonely Planet Cyprus Tourist Guide 
This is my new favourite Cyprus tourist guide to go with the Rough Guide by Marc Dubin. 
It is the 6th edition and published in 2013.
I purchased this book recently and very pleased with the content.
It is written in such a way you know the authors have actually  been to the island.
They don't gloss over things, they tell you how it is. 
I can relate to that having had such a long history with Cyprus.. so rest assured what you get is what they mean.
If you check Amazon reviews it has done very well, you will get the odd disgruntled reader but as we have said before...
No one book will cover every single detail about the island.
This one should be in your hand luggage for a read on the flight over.
It covers the north side of the island as well.
Again my personal opinion, you can make up your own mind.
Prefer To Use Your Kindle?
You can download a copy of this book to your Kindle.
---
Cyprus Tourist Guide For The North
If you are looking for decent Cyprus Travel Guides which cover the North side of the island, then look no further than Diane Darkes version of the Bradt Guide, both in regular book form and in a Kindle Version.
A further choice is the Walk and Eat book by the Andersons which we can recommend personally. We tried 2 or 3 restaurants recommendations and friends have reported back as well they had some good food and really liked this little Cyprus tourist guide.
Read Amazon reviews to make up your own mind but we thought it was a great little book to have in your rucksack.
---
Other Authors
There are other books written about the island that you may not put into the Cyprus Tourist Guide category but they are useful to read as background to the island in terms of culture, history and personal family stories.
Here is my first one for you:
Androulas Kitchen-Cyprus On A Plate
Written by the lovely Sonia Demetriou who had a Cypriot father and it starts with her very first trip to Cyprus as a teenager in the mid 1960's all the way to the 21st Century.
You are led through Sonias background through food, arts and crafts, with plenty of recipes with stories attached to try and photographs of village life to enjoy and she will explain who Androula is and where her kitchen can be found.
She has a lovely blog if you want to know more about her and her family history and note that Sonia created the gorgeous artwork on the front cover of her book.
Prefer To Use Your Kindle?
This book is currently not available as a Kindle download.
As Sonia says " a rich selection of photographs give a flavour of the beautifully rugged countryside of Cyprus, as well as a taste of the traditional and contemporary arts and crafts on the island. Descriptions of Cypriot culture in a byegone age together with delicious recipes to tempt your taste buds"
---
250 Things To Do In Cyprus On A Sunny Day
Written by Chris Alden, who lived in the foothills of the Troodos mountains for several years and, incidently has also written a book about the Greek alphabet, if you were thinking of learning the language.
I like this book, it is short, to the point, doesn't have any filler in it, no pictures either and covers the whole island, including the North Cyprus.
If you don't want to read the history of the island or engage in anything else other than some suggestions about what to do when you get here, places to see, events to experience, then this is the book for you. It is certainly to the point.
We are extremely familiar with the island, never the less we came across a couple of things and out of the way places we had not been to before.
So even you are a seasoned traveller or you live in Cyprus you just might be suprised and learn something new.
Prefer To Use Your Kindle?
This book is available to download to your Kindle as well.
---
Home Page > Angloinfo Cyprus