Cyprus Fishing
Video Copyright: Mikes Fishing Channel On Youtube - Tuna Fishing
Cyprus fishing is a great way to spend the day in Cyprus catching your dinner.
What an achievement to go out in the morning and come back with a fresh tuna!
By the way if you only have limited time to watch Mikes fishing video at the top of the page, they reel it in towards the 3 minute mark. What a beauty.
What Kind Of Fishing Is Available?
Freshwater Fishing
Sea Fishing
Tell Me More About The Options On Offer
Freshwater Fishing
Cyprus Fishing is a great pastime and you have more than 20 reservoirs islandwide to choose from and a considerable number of freshwater fish to catch such as trout, bass and carp to name a few (there are about 15 species in total).
Where Are The Resevoirs For Fishing?
If you want to find out a complete list of where to go for Freshwater Cyprus Fishing, then please visit:
The Cyprus Freshwater Angling Association .
This is the english translated site but if you prefer a greek language option, please visit here
What Are The Freshwater Fishing Regulations?
There are several regulations that apply with regard to The Fisheries Law and Fisheries Regulations:
Licensing: You need one & (certain rules apply see below)
Fishing Methods: no aids or chemicals and only a single rod with a hook and line per licence holder
Catch Limit: a limit is applied per species of fish
Size Limit: a limit is applied per species
Location To Fish From: Only the banks of the dam
Bank Protection: Limit on the use of vehicles and plants and soil are protected
Side Note: The regulations are subject to change, depending on environmental factors in progress at the time so the rules are not set in stone. For example, even if you have a licence to fish, if the Director of The Dept of Fisheries and Marine Research has a reason to close a reservoir, then his decision will stand until he changes his directive.
There are branch offices in Limassol, Larnaca, Paphos, Paralimni and also the Cyprus Department Of Fisheries & Marine Research Website if you want to find out more information.
How Do I Obtain A Freshwater Fishing Licence?
The licences are obtainable from:
The Department Of Fisheries & Marine Research The licences are personal to you and non transferable.
They are valid until the last day of each year, and you can pay to fish only one resevoir of pay a bit more so you can have access to all of reservoirs island wide.
The cost is: 17.00 euros for the single reservoir and 34.00 euros to access all reservoirs.
Group Licence
You can also obtain a group licence valid for a short time as well, if there are a number of you.
One person needs to apply on behalf of the group and the licence is valid for 15 days at a cost of 8.50 Euros per person
Children
Please note: a person has to be over 12 years of age to obtain a licence, but if the child is under that age, a parent or guardian can obtain the licence on behalf of the child and have their name on it.
Top Tip
If you would like to know what fish are found in the reservoirs of Cyprus you can contact the Department Of Fisheries & Marine Research and purchase a booklet in English with colour photos of the species. The cost is 3.42 Euros.
---
Sea Fishing Information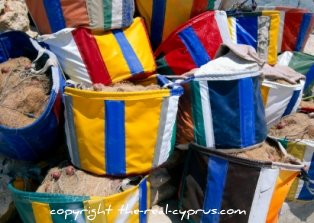 The Familiar Site Of Cyprus Fishing Baskets
The Mediterranean sea around Cyprus is home to about 250 plus species of fish. Tuna and Snapper and Swordfish will be found on many a taverna menu after a days catch.
Is A Licence Required For Sea Fishing?
The answer is actually it depends.
If you are going out to spear fish whilst diving or at night or undertake any kind of commercial fishing or you are going to use traps or long lines then the answer if yes, you need a licence.
If you are going out on a boat for fun day, or spear fishing without any diving equipment but remember, you can't take part in that anywhere that is designated a swimming area, or you are just using vertical lines or trolling then no, you don't need a licence.
As a licence holder you must stick to regulations laid down that regulate any equipment that might be used or when you are allowed to fish or how much fish you can catch.
You can find more information about how to get the licence at:
The Department Of Fisheries & Marine Research
How Can I Find A Boat To Take Me Fishing?
You will find boats offering day fishing trips at all of the harbours around the island. You can find companies on the internet, you can ask at your hotel or contact your local tourist office when you arrive.
You will not be short of someone to take you out for your Cyprus fishing trip.
Happy Fishing
---
Lastly, I love this photograph, of a lone fisherman taken in the early evening near Akrotiri in a place called Wreckers Beach.
We visited a lot, and still go when when we can.
The photograph was taken by my husband Mike and I think he did very well.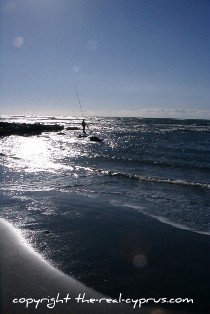 ---
Leave Cyprus Fishing To Return Home