Cyprus Maps
My Current Favourite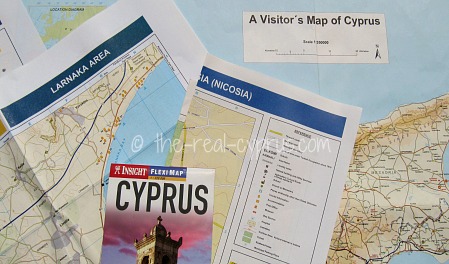 Cyprus Maps - there is a lot of choice available now, free ones, cheap ones, expensive ones, maps that go with guide books, maps from airlines and the local supermarket, so you will find one you like and need, even if you cannot afford to pay for one.
The Cyprus Tourist Office or CTO in all towns and online, will send you the free ones, you can see in the photograph above, one for Larnaca, one for Nicosia and one for the whole island.
And they are fine to use but they are a bit limited, they are not updated that often so as the island develops and there may be bits missing, so a good argument for purchasing the latest Cyprus maps to have the up to date information.
I have been in Cyprus now for a number of months now, I have been using the INSIGHT Fleximap, also shown in the photograph above.
Scale is: 1: 222 000
---
Why Do I Like It?

Easy really, for me it has the following traits that I find really useful:
Informative & easy to use (I am not a map reader!)

Recommended Sights (including the North side of the island)
Laminated for durability (I love this bit!)
Informative and Easy To Use
I am not kidding when I say I cannot read a map very well. You would not believe I had military training to get from A to B on the Welsh mountains, using a map and a compass and if you couldn't do it you were left outside for the night!
Thankfully I had friends to help or I would have been cold in December!

I particularly like this one because it is clear, and conveniently has place names written in Greek/English and Greek/Turkish where appropriate, so exceedingly useful if you are trying to point out to a Cypriot where you want to go, if you are lost.
Eminently sensible way of producing Cyprus maps if you ask me!
How many times have you tried to use sign language, pigeon Greek/Turkish, or point out a place on the map, only to receive the very charming but annoying shrug of the shoulders to realise the person you are asking hasn't got a clue!
Not their fault of course, but certainly it is a fault of the map makers on the island, or cartographers who create Cyprus maps.
In addition to the bi-lingual place names...

...there is a written part of the map, where useful travel information, with details of local transport, tourist offices and websites complement what is on the cartography.
The top sights are cross referenced to the maps to help you plan your itinerary as well, which if you are visiting for only a week or two is supremely helpful.

Recommended Sights
This particular map is brilliant for pointing out in red the most important sights to see on the island, both North and South, so saves a lot of time reading guide books if you don't have the patience or are in a hurry on short trip.

Laminated For Durability
How many times have you turned your map inside out, upside down, and over time found that the place you need to see, is right where the rip is!.
So laminating makes it last longer, AND makes it easier to fold as well, which in my book is a bonus.
You can write on it with a non-permanent marker and wipe it off afterwards, if you want to mark your route out before you take off on your adventures, simple but brilliant idea I think, particularly if you are not familiar with the island.
So practically perfect in the world of Cyprus maps.

---
What Is On It?

It covers:
The whole of the island including the north
Street map included for each of the main towns

Marked points of interest
Public buildings
Embassies
Parks
Hotels

also...
Top tips about:
Travel Documents - what you need if you travel North
Getting to the airports
Using a hire care
Using the bus
Taxi's
Facts For The Visitor
Tourist Information about Cyprus Tourist Offices
Money
Opening times
Tipping
Telephones
Temperature
The major attractions
Main sights
Along the coast
Churches and monasteries worth visiting

---
Downloadable Cyprus Maps For You

The most popular map of all is the Map Of Cyprus for visitors. If you want to know how current it is, look at the date in the corner to see when published. You can have them all posted to you, if you prefer if you contact your local CTO office in your home country and give them your snail mail address.

---
Want To Buy The Fleximap?

Insight Flexi Map: Cyprus (Insight Flexi Maps)
The lack of green line crossings (please don't call it a border, very disrespectful to the Cypriots) are mentioned in a review about this map, which I can agree with, but not a huge reason not to buy the map because you can find the information in other areas, and note on your map yourself.
You can note the names from this page about Ledra Street in Nicosia, I have alluded to them here.
Most other Cyprus maps miss them out too!

---
Leave Cyprus Maps & Return To The Home Page