Haloumi or Halloumi Cheese Can Only Be Made In Cyprus To Qualify For The Name
---
Haloumi, or Halloumi as it is sometimes called is a national treasure in Cyprus.
Rather like Champagne in France and Stilton Cheese in England, it can only be made and called by the name if it comes from Cyprus.
It is the national cheese of Cyprus and can be made from sheep or goats milk and every family all over Cyprus has someone they know who can make it.
Personally we love it. We have it on our shopping list every week so there is always some in the fridge.
We love to bbq it and have it with salad, Mike loves it cooked with bacon and put into a sandwich but he has to have cucumber with it but I only want it with bacon and tomatoe. Something to do with complimenting the salty taste. You will find your own combination.
We found to counteract the salt, we soak the cheese in cold water for an hour first and then drain it and only then cook it, but sometimes we live in a bowl of cold water overnight in the fridge and it makes the texture wonderfully squidgy to eat.
We don't like it being too salty and this seems to help.
You have got to try it though, its easy to cook and pan frying or grilling is the best way in the absence of your bbq.
It is now so famous, even Nigella Lawson uses it is some of her recipes although she does refer to it as a Greek Cheese.
It is not, it is a cypriot cheese. It does not come from Greece although it may be made there or other places. Its place of origin is Cyprus.
---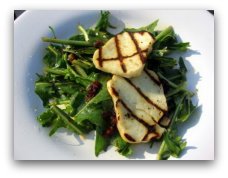 If you want another recipe for halloumi you might want to check out Peter Minaki's site called Kalofagas which means gourmet in greek. He is a greek canadian living in Toronto.
I tried this and really liked it, even though I am not mad keen on Ouzo or anything with the taste of aniseed in.
I recommend you give it a go, if you want a change from a haloumi sandwich or the bbq version.
Click here to visit Peters Site
---
If you want to learn more about Halloumi Production...
---
Lysiotiko Halloumi Production
---
Halloumi Production In A Village & Cypriot Cuisine
---
Related Pages
Halloumi Recipes Leave Haloumi Page & Return To The Home Page
---