Halloumi Recipes
---
Halloumi Recipes are few and far between.
This fantastic cheese from Cyprus does however have a very famous fan, someone no less than Nigella Lawson our great british food writer, author and tv personality.
She is a great advocate of the cheese and has a couple of recipes in her books.
Here is the first one for Halloumi and Roasted Red Pepper which is on video:
Nigella Lawson Cooks With Halloumi
Halloumi With Roasted Red Peppers
Ainsley Harriot Cooks With Halloumi
Paprika Halloumi
Halloumi Recipe From The Lebanon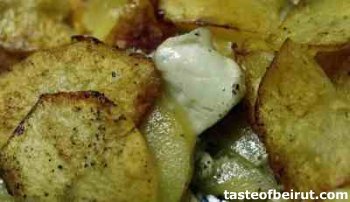 Joumana has a wonderful blog called Taste Of Beirut
I have linked to her wonderful Potatoe and Halloumi & Zaatar recipe.
Zaatar is a combination of dried wild thyme, sumac and roasted sesame seeds, which is not a combination I have found in stores easily.
Sumac incidentally is a spice used extensively in the middle east and has a sour/astringent quality to it.
This can be found in regular stores so you might want to make your own Zaatar.
However, I tried this dish just with thyme and it was lovely. I would never have thought to use thyme with Halloumi.
A great dish to have for Sunday Lunch for a change.
---
The Cyprus Breakfast
This is our favourite way of eating halloumi and this halloumi recipe is not just eaten for breakfast, sometimes this is dinner with a few roast, chipped or fried potatoes.
Absolutely gorgeous!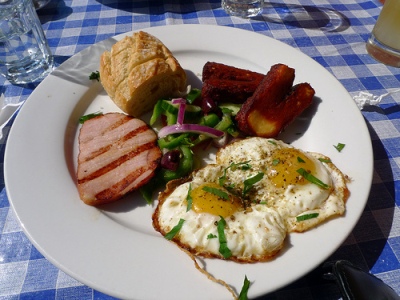 Photo Credit: Roboterkampf
---
Top Tip: Soak your halloumi in cold water for 20 minutes & pat dry before use to remove the excess salt as the cheese can be too salty for some tastes if you cook straight from the packet.
We especially like it soaked overnight as it really makes the cheese perfect for our taste and it gives a particularly wonderful squidgy texture when cooked, which is how it should be.
Do not deep fry...! Shallow fry OR grill to perfection.
Another favourite halloumi recipe is just to make a simple sandwich with bacon, halloumi and the addition of tomatoe really goes with the salty flavour of the cheese and the bacon.
Guaranteed to become a favourite with you.
My husband loves cucumber in his and sometimes we like the cyprus breakfast recipe above all put into a sandwich roll, and sorry to say to all health nuts, it has to be white bread. You just don't get the same taste with wholemeal, however healthy!
Absolutely gorgeous for a saturday lunch especially in the winter and if you like to sample a few beverages it is a great sandwich to have before you have a night out on the tiles as the contents will soak up any alcohol.
If you go "down town" in Cyprus you will find on every street corner someone cooking bacon and halloumi until the early hours of the money when the nightclubs turn out.
Want A New Halloumi Taste Experience?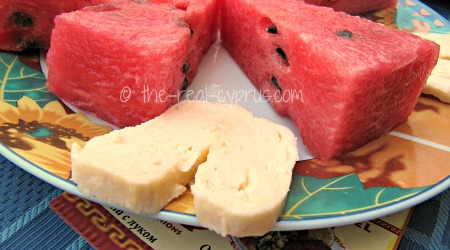 Try your watermelon with some Halloumi!
We are familiar with this combination, but what we hadn't experienced before, was older halloumi with our fruit.
That sounds a bit odd, but really the taste is wonderful.
See the picture above, this was a plate of watermelon and halloumi given to us by Erdan, a Turkish Cypriot we met in Larnaca, who owns a fast food restaurant.
He plonked a plate down in front of us, on the house when we went for a kebab sandwich one day.
Sadly, he would not reveal his cheese source, as he said, "if I do that I will have to kill you....lol"
The cheese, is kept to mature, and has a drier and saltier texture, which on it's own is just too much for us.
But put with the sweet and juicy melon, the taste was sensational.
We have only experienced the "older" halloumi when we have been to a Cypriot home, and usually it has been given to us with some cucumber and bread and a few olives. The cheese has been made in that home, earlier in the year and left on a cool dry shelf to age.
Not sure if you can actually buy it, perhaps as a mature halloumi, but if you get the chance, give it a go, and in the mean time I will try and weasel the answer from Erdan as to where his source is from!
If you can only get the regular stuff in packets, buy that instead, you will still love the flavour combination for something different.
It is also nice with a juicy pear or a nice red apple, and pineapple is a completely wild taste sensation.
Let me know how you get on with these "halloumi recipes"
As We Are On The Subject Of Cheese...
---
Meet Tove Cecilie Fasting.
She loves to eat and loves to cook. And she loves to write about food!
Originally from Norway, but has lived permanently in Greece since 1993.
She is married to a Christos and runs a small cozy hotel in the village of Eleftheres in northern Greece.
She has a wonderful website about her life in Greece and has written extensively about greek food:
Feta Cheese Recipes
Related Pages
Halloumi Cypriot Cuisine Leave Halloumi Recipes To Return Home