Larnaca Airport
The New Terminal Building At Airport
---
In Larnaca, the Airport (LCA) is one of 3 airports on the island.
Larnaca is to the east and Paphos Airport (PFO) is found on the west coast.
Ercan Airport is located in the north of the island.
The brief video above shows the new terminal that has recently been built for Larnaca airport. The local population had to make do with an old and antiquated building, with old fashioned equipment, not particularly inspiring food and beverage outlets, and facilities that did not befit and european country.
However, the island now has this airport to be proud of, and it is used by scheduled aircraft from around the world.
Most of the tour operator charter flights come into Paphos.
---
About Airport Arrivals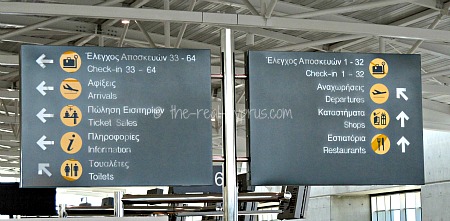 You will be welcomed to the island with a spotless, functional, new and very modern airport terminal.
There should be all the facilities you need when you enter the airport terminal building:
Toilets
Telephone
ATM Machine
Duty Free Shopping
Cyprus Tourist Office
Baggage Claim
Luggage Wrapping Service
Disabled Traveller Services
Once you have cleared the customs area, you will be on your way to the arrivals hall.
If you need to rent a car, you can do so here, all the major names are here, or if you booked your car in advance (probably the cheaper way) because you have opted to look for cheap car hire in Cyprus before you arrived, this is where you could pick up your car, if you are not having it delivered to your accommodation.
What About Taking A Bus?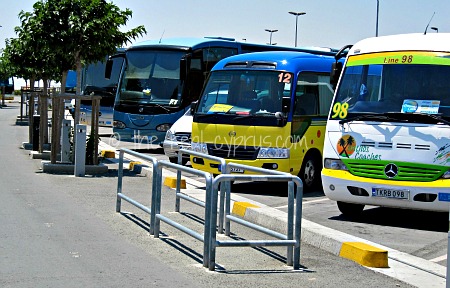 Of course not everyone wants to book a hire car, or use a taxi, so for the latest updated information we recommend you contact the local bus companies via Cyprus By Bus Website
They can provide you with the latest timeteable and prices for your journey and what stop offs they make on the way, but to be honest, the services are limited from the airport or intercity (6.30 am till 4 pm) after certain times, but check first.
The bus companies want business and the services may well increase without being publicised.
Depending on your arrival time, you may be better off probably getting a taxi or hire car.
The shuttle bus area is on your left as you leave the terminal building, if you are using them, but be wise and confirm time tables before you arrive.
If you need to get to Limassol there is a popular service called the: Limassol Airport Express Service
What If I Want To Use A Taxi Service?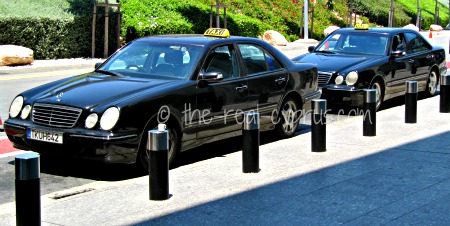 As you leave the terminal building the taxi rank is on your right, and you may well be hassled slightly as you come out of the doors...
...You can just jump in and hope for the best regarding the price but if you prefer you can pre-order a taxi before you arrive and have it waiting for you, just to hop in, You know its paid for and you don't have to mess about looking for money to pay the cab driver.
You can also pre-order your taxi and pay in dollars or in euros
What If Someone Is Meeting Me?
If someone is meeting you, they can use the short stay car park free for the first 20 minutes and then they will have to pay 2 Euros for the first half hour and then 3.5 Euros if staying for an hour. They cannot park outside the terminal building, so they will have to come and meet you in the arrivals hall, and then you can find your way to where they parked their car.
What If My Flight Is Late?
If you have booked a car, the car will have been dropped off earlier at the car park, you will have to pay car parking charges anyway, they will just be more expensive if your flight is late!
If you have a taxi ordered, the drivers keep an eye on arrivals and your greeter can do the same, to see the
latest arrivals here in real time at Larnaca airport.
Do You Require Assistance For A Disability?
For more help and guidance, the tourist board have created a booklet to help you both for arrival, during your stay and departure from the island.
You can locate the information at Accessible Cyprus
---
Larnaca Airport Departures
A Taste Of The Departure Area At The Airport
Where Can I Check Departure Details?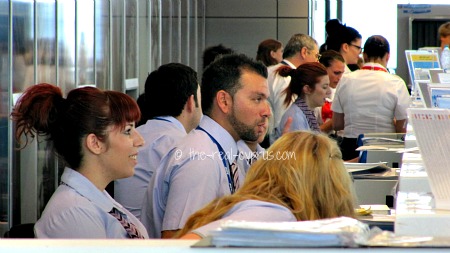 The Airport Check In Desks
If you want to have a look and check the departures in real time at the airport you can find them if you pop in the airport details into this flight stats page here
Tell Me About Parking
At Larnaca you will find:
Short Term Parking
Long Term Parking
Short term parking is ideal if you are being dropped off or are leaving a hire car for pick up, unless you have been advised to leave it in the long term car park.
Cost for 30 minutes is 2 Euros, rising to 3.5 Euros if you stay for an hour.
Long term parking This is located nearby to the airport and operates 24 hours a day, 7 days per week and the cost is approx 12 Euros for the first 5 days then subsequent days are 6 euros.
There are several companies now offering long term parking and they have a shuttle bus system to meet you and your luggage is carried in a covered trailer on the back of the small bus.
It is very convenient and works well.
---
Inside The Departure Area
You can get a feel for the inside from the brief video above. Bright, modern and stylish, great places to eat and drink, and some really nice last minute souvenirs..
There a more check in desks than ever and even the facility to self serve so you don't have to wait in a queue.
Once you have cleared passport control and had your bag checked by security you can go shopping, eat and drink or buy last minute duty free if you are entitled.
---
Facilities For The Disabled or Reduced Mobility?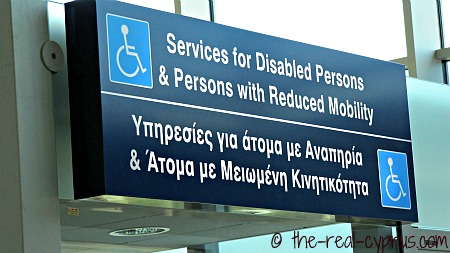 Visitors with special needs or with reduced mobility are well catered for at the airport, there is a complete department dedicated to them now, at the airport.
At arrivals, turn right and head for the sign you see above this paragraph.
The facilities include toilets, lifts, car parking spaces and microlifts.
Parking spaces for people with limited mobility are located in front of P1 (short term airport parking zone). The first 120 minutes are free of charge, however after the mentioned time, drivers are charged with standard parking rates.
To have 120 minutes free parking, drivers should go to the Parking office at the front of the Terminal building prior to leaving Larnaca Airport and show their Disability Badge to get their car park ticket validated!
For More Information, Help & Assistance
Please visit the Cyprus Tourist Board page provided to give you complete information regarding access for disabled visitors in Cyprus: Accessible Cyprus
VIP Lounge?
There is a VIP lounge and business centre operated by Cyprus Airways should you need more comfort and privacy at the airport for an extra cost.
---
Related Pages
Cyprus Airports Paphos Airport Leave Larnaca Airport Page & Return Home Leave Larnaca Airport & Return To Larnaca