The Oldest Treasures On The Island Lie In The Cyprus Museum
---
This house was built in the classical style by the British in Leoforos Mouseiou. A representative selection of archaelogical discoveries are on display in 14 seperate rooms, stretching from the stone age aroun 8200 BC to the time of the Roman Empire.
Mycean ceramics and tomb monuments, bronze statues, furnishings with ivory decorations, and coins and jewellry from over 5000 years ago give an insight into the islands rich history.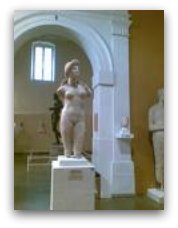 One of the most impressive exhibits in the collection of around 2000 votive figures from the Sanctuary of Agia Eirini. Also on display is the famous marble statue from the 1st century BC. Aphrodite of Soloi which has become a symbol of Cyprus and a bronze nude statue of the Roman Emperor Septimius Severus.
What is missing however, are many of the discoveries which the Europeans made in the 19th century and at the beginning of the 20th century. These were taken off the island and now adorn museums all over the world, including the Metropolitan Museum of Art in New York.
The museum is a stop on the Aphrodite Cultural Route.
Opposite the museum building is the City Garden and the Theatre of Nicosia.
Address: 1 Museum Street
Tel: 00357-22865864
Opening hours: Monday-Saturday 9-17 & Sunday 10-13
---
Thanks to Insight Guides For The Text
---
Click Here To Return To Home Page Click Here To Return To Capital Of Cyprus Page
---