Is It Possible To Get A Really Good Map Of Cyprus?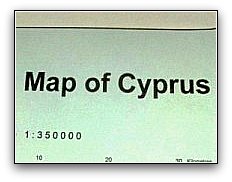 Reasonable map of Cyprus yes but really good, well the answer is no, not really and the reason is simple. It is because there has been so much change on the island, it is difficult to keep up with it, and some of the changes have not yet been documented but you can get yourself a reasonable map of cyprus and they vary from free to a few pounds to buy.
FREE Maps Cyprus
The simplest way to get yourself a free map is to get in touch with the local tourist office CTO (Cyprus Tourism Organisation) as they are known, and you will find them both in Cyprus and at CTO/Embassy offices abroad They will provide maps cyprus free of charge at your request, and they have a general visitors one which covers the whole island and they will also send you one for each of the major districts, Limassol, Larnaca, Paphos, Nicosia and Famagusta if you ask for them. The most recent revision of the visitors map is from May 2007, but let me know if you get a more recent one and I will publish the date here.
The local CTO in UK can be contacted:
Cyprus Tourism Organisation
17 Hanover Street
London
W1S 1YP
Tel: +44 (0) 20 7569 8800
Fax: +44 (0) 20 7499 4935
Email - Click Here To Send Email To CTO
If you are from another country I am sure if you email them they will put you in touch with a more local office to you.
My experience has been to phone them on one day and they send you the information by first class post and it usually arrives the next day in UK but of course it depends on what time of year it is. You might have to wait a bit longer if it is christmas post season!
---
SCALE OF MAPS
The scale of these maps are
1:350000 for the visitors map & 1:700000 for the town maps
---
ONLINE & DOWNLOADABLE MAPS Cyprus
You can go to the website for the Ministry For The Interior in Cyprus and go into the Department Of Lands & Surveys and they provide the following downloadable maps. They may take quite a while (be warned) and you would have to print to an A3 printer or larger to make them useable I think but very useful as an iterim measure for looking at on your pc if you need to give yourself a brief overview of an area.
Limassol
Limassol Area Limassol Town Centre
Paphos
Paphos Area Paphos Town Centre
Larnaca
Larnaca Area Larnaca Town Centre
Nicosia
Here is a great link below to a city map for Nicosia with most of the sightseeing hotspots listed. It is courtesy of Planetware.
Ayia Napa
Ayia Napa Area Ayia Napa Town Centre
Protoras & Paralimni
Troodos Mountain Region - East & West
Troodos Eastern Side Troodos Western Side
---
The Most Popular Map In Cyprus is:
---
Buying A Map For Cyprus
If you need or want to buy a map of cyprus I recommend the following:
A local company on the island, in Nicosia who produce some very good quality maps. Their contact details can be found on the website and they will post maps worldwide.
If you email them they will advise you where is the nearest outlet to your accommodation they sell their maps and tourist guides on the island if you want to purchase them when you get here.
Contact Christina Karouzi Hadjicosti at the link above for further information.
---
The Insight Guide
This one isnt too bad either.
---
Click Here To Leave The Map Of Cyprus Page To Go To Home Page
---